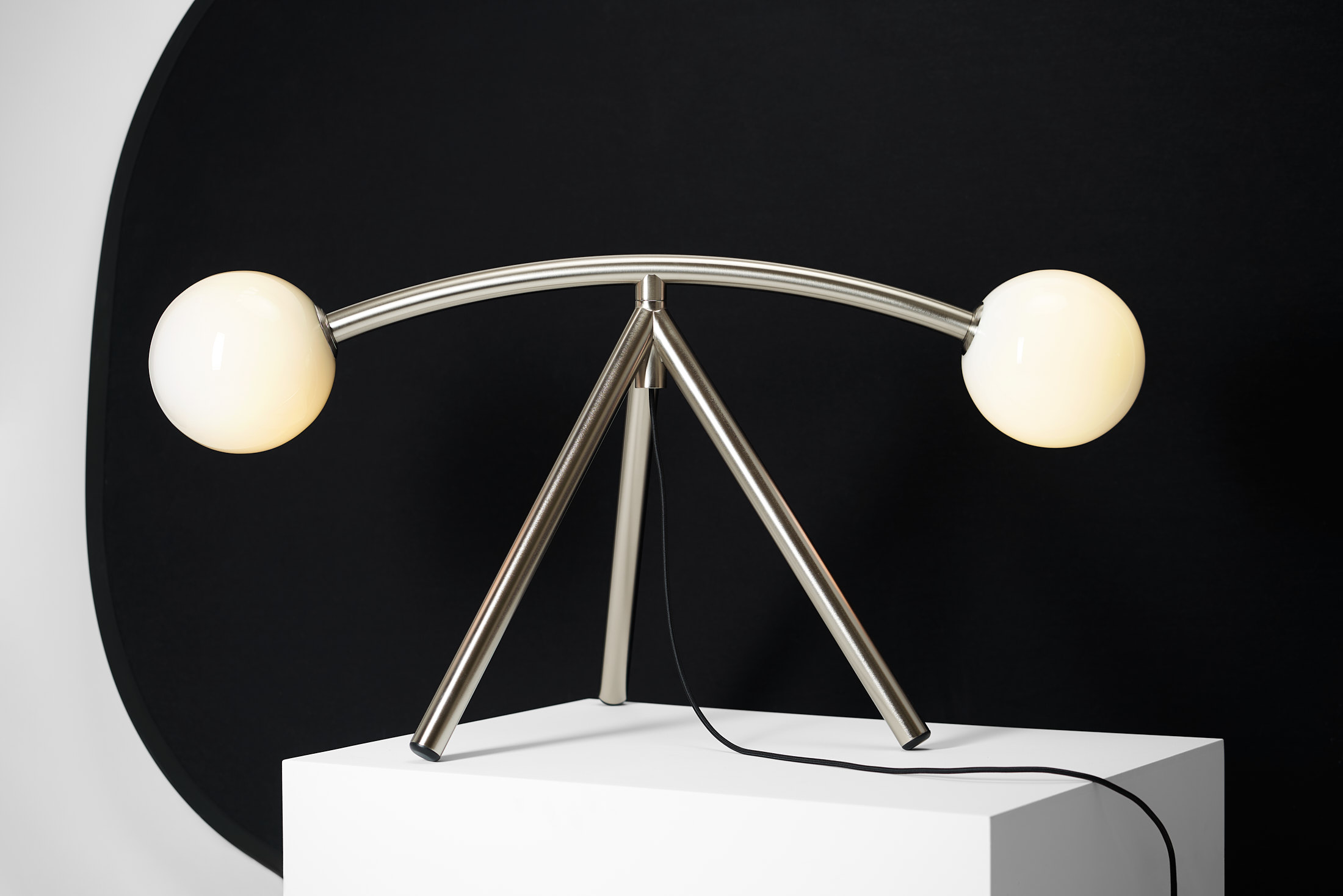 RUNE is an invitation to intimate dialogue. Installed on the floor, the clean lines of the luminaire, the geometry of its design and its generous span make it a major piece that inspires balance and harmony. Its two opaline globes gently deliver a warm light that rises in the room and embraces the conversation. Smooth and precise, the satin-finish brass luminaire's rotation mechanism invites the hand to move these spheres of light, like two connected souls.

RUNE, born from human hands. The luminaire's remarkable identity benefits from the minimalist approach of the designers Sébastien Cluzel and Morgane Pluchon: its shapes join together harmoniously and fit perfectly together to form a continuous, poetic and self-evident object. To meet this demand for simplicity and faithfully materialize the vision of the SCMP DESIGN OFFICE studio, RUNE uses mouth-blown glassware and Corbery Editions calls on craftsmen and small businesses' manual expertise located in Centre and Pays de la Loire regions. RUNE is the result of French know-how in high-end objects.

The path to consistent, respectful and sustainable publishing. The present never ceases to question the place and the role of objects in our lives. This is at the heart of the SCMP DESIGN OFFICE duo's reflection on their mission as designers, as it is for Corbery Editions. With RUNE, this collaboration enables the publisher and designers to give birth to an object with a strong identity whose humanist vocation is meaningful, to make use of virtuous materials, and to call on valuable local know-how while limiting transport.




Photo: JONATHAN MAUBOULIER


copyright ©CLUZEL / PLUCHON